Looking for a lucrative business option? While there are many potential choices, from fast-food restaurants to gyms and everything in between, most of them require a significant commitment of time, money, and effort. That leaves little time for you to enjoy your life as a successful business owner. Isn't there something that offers the opportunity to create a thriving, profitable business but also enjoy your life?
One choice is to start a Bitcoin ATM business. Lucrative and recession-proof, this type of business also gives you plenty of flexibility so that you can have your cake and eat it too. How do you start a crypto ATM business, though? It's not as hard as you might think.
Choose Your ATM Type
The first step would be choosing the ATM type you wish to operate. There are two basic Bitcoin ATM types you can choose from: simpler 1-way units that only support a buy bitcoin operation and self-standing 2-way units capable of both Buy and Sell Bitcoin operation. One-way crypto ATMs are more suitable for businesses with limited space and smaller operations. In contrast, the two-way units are usually placed at high-traffic locations like gas stations, mini markets, malls, and sites with high visibility and high foot traffic. They are more suitable for businesses looking to create more significant operations, with a larger number of transactions per machine. 
When considering which type of Bitcoin kiosk is right for your business, it's important to consider the location where it will be placed and the cash volumes you are looking to achieve. One-way units have a smaller cash storing capacity and are made for businesses with low transaction volumes. While 2-way Bitcoin ATMs are meant for companies looking to develop more significant volume transactions and are more suitable for mid to enterprise operators. The good, two-way units should be equipped with a cash recycler which will more efficiently handle the cash and reduce the float needed for the operation. Besides the hardware, it's important to look into the software component and ease of use. If your machines are hard to install, hard to operate, and complicated for your customers to use, you are not on the right track. ChainBytes Bitcoin ATMs are plug and play, there are no complex procedures, and you do not need to have any knowledge about programming the servers, and you will never need to write a line of code because ChainBytes machines and software are made with an end-user in mind. Installation of ATMs is done remotely by a team of professionals, and operators can manage all the units remotely via a simple Dashboard interface. The Dashboard allows operators to manage all the aspects of their machine operation, set the fees, adjust KYC/AML levels, follow the transaction in real-time, and much more. 
Create Your KYC/AML Compliance 
Once you have chosen the perfect unit for your operation, the next step in starting your Bitcoin ATM Business is to create a KYC/AML compliance, get a compliance officer, and register with the governing body (FinCEN). There are specialized companies that can help you do that, for example, BTMcompliance, specializing in compliance services specifically for Bitcoin ATM operation. They offer the services of drafting a compliance program and registering the operator business with FinCEN. They also provide a more specialized service of monitoring transactions and filing necessary reports with FinCEN and mandatory training for the operator and his staff. The price of drafting a KYC/AML program can go anywhere between $3,000-$5,000, but due to the unique agreement BTMcompliance has with ChainBytes, the drafting of the compliance program and filing for registration with FinCEN for ChainBytes customers is $2,000. While assigning a dedicated compliance officer, monitoring and clearing transactions of flags, and filing appropriate reports with FinCEN is $150 per machine per month. 
Secure the Steady Supply of Bitcoins
To run your business, you will need a steady supply of bitcoins. This can be achieved by creating an account on one (or several exchanges), or buying bitcoins directly from miners, OTC desks… Most Bitcoin ATM operators choose to supply their operation by buying bitcoin on exchanges as BinanceUS, Gemini, Kraken, to name a few. To use an exchange as your supplier, you will need to register for the account, and the procedure is usually quite simple. Once you have opened the account, you can connect it to your Dashboard for the "Auto Buy Back" feature, which automatically resupplies your bitcoin stock for you whenever a customer order is fulfilled. 
Find Locations
This step occurs in tandem with the previous step. You will need to decide where you want to install your ATMs, which means finding a perfect location. Some location business owners may be willing to allow the placing of units at their establishment free of charge because they are aware that the presence of the ATM will be a draw for customers. However, many will require that you pay rent for the space your machine(s) take up. It's usually good to offer a monthly location rent to the establishment's owner where you are planning to place the machine. The monthly rent may vary, depending on the location exposure and expected foot traffic, and the rent could go anywhere from $150 to $500. The exception are malls where rent can be somewhat higher. 
Service the Cash
Once you have your machines placed in the location, you will need to service the cash. Depending on the volumes your machines are doing, you may need to visit the site and collect the cash weekly or a couple of times a month. When it comes to cash collection, depending on your business plan, you can employ armored car services for cash collection or do it personally. 
Kick Back and Grow Your Business
Once your ATMs are installed, running this type of business is really about maintenance and ensuring that you always have a bitcoin supply and pick up the cash from the machines regularly. The rest of your time can be spent building your business, marketing your machines, or just enjoying the flexibility of being your own boss.
Follow us on Social Media: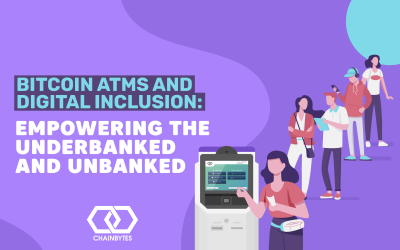 Introduction As our global financial system continues to transform, spurred by the advent of financial technology, there's a rising focus on bringing cryptocurrency to all corners of society. However, a significant portion of the population - the underbanked and...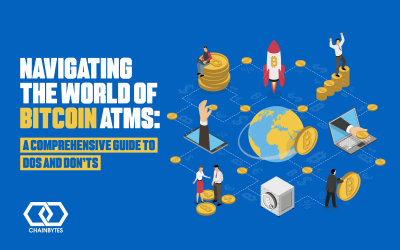 Introduction As the world of cryptocurrency expands, so does the infrastructure supporting it. Bitcoin ATMs have become one of the most sought-after services in the cryptocurrency ecosystem. With over 19,000 Bitcoin ATMs operating globally, it's crucial to know how to...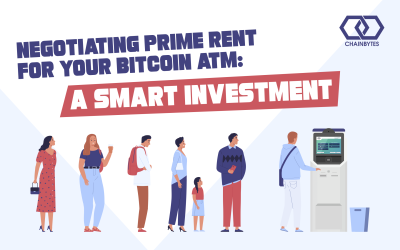 Learn about rent prices for Bitcoin ATM locations and how to negotiate the rent with potential store owners. In this article, we are bringing the best practices for renting a Bitcoin ATM location.