2-WAY BITCOIN ATM (cash to crypto and crypto to cash)
1. Audio Amplifier and 2 Speakers
2. Tray
3. Cash Recycler + Cash Box (1080 bills)
4. 19″ Touch Screen Monitor
5. Camera
6. Thermal Printer
7. Steel Housing
8. Space for your logo
9. 2D Barcode, QR / ID Scanner
10. 2nd Top Mounted Monitor
Exceptionally fast ROI + Additional Revenue streams
Combining state of the art hardware packed with premium components and additional top screen makes this model a unique Bitcoin ATM kiosk still unchallenged in possibilities and additional revenue streams. Top-mounted 2nd screen allows you to sell add space to 3rd parties and generate additional income or simply promote your brand with eye-catching videos or explainers that will make your BTM stand out.  With all possibilities, ChainBytes+ model is unmatched by any existing BTM on the market, proving itself as a best enterprise solution for companies looking to maximize the usability of Bitcoin ATM as more then just a buy/sell bitcoin kiosk.
White Labeled
A combination of premium hardware components, eye-catching design and high customization options, this kiosk presents the perfect industry solution for companies looking to establish their unique brand in the Bitcoin ATM Market. 
Simple to use and operate
You do not need any technical or programming knowledge to operate this BTM. Kiosk is "Plug and Play" created for industry professionals with little to no technical skills, kiosk setup and updates are done remotely by our highly skilled staff.
Compliance Package  $2000
Provided by 3rd party – BTMcompliance LLC. Package includes: Designated Compliance officer, Registration with FinCEN, KYC/AML compliance program tailored to the risk assessment of your locations. Not included: Monthly fee of $150 for transaction clearance (SAR, CTR Filings)
Other Bitcoin ATM Models From  $6500
Our 2-way self-standing model without a top screen supports both buy and sell transactions, and it's suitable for placement at the locations like grocery stores, shops, gas stations, bars, private clubs, or similar indoor locations. ChainBytes+ and ChainBytes 2-way are usually the first choice of Enterprise Operators looking for durable and easy to operate Bitcoin ATMs.
| | |
| --- | --- |
| Packed with Features |  ChainBytes+ model was introduced in 2018 and it was an immediate success. This model supports both buy and sell functionality and has an additional top-mounted screen that can run any ads, explainer videos or your promotional material. ChainBytes+ is highly customizable and optionally it can support additional features. |
| Placement: | ChainBytes+ is designed as self-standing bitcoin ATM and it's primarily installed in malls and high foot traffic locations where it attracts attention. |
| Wallets: | Bitcoin ATM's provide a way for customers to buy crypto-currency in a simple and easy way. Operators are owners of the wallet, ChainBytes do not store operator's funds. |
| Recycler | ChainBytes+ model is equipped with ITL Recycler. ITL is a British company with a track record of over 30 years producing banknote receivers, dispensers and recyclers, offering one of the best quality products on the market. Having the recycler significantly reduces the float needed for operation, since bills received from one customer can be directly dispensed to the next. Reducing the need for emptying the cash or storing large amounts of cash in the dispenser. |
| Dashboard: | Our back-office Dashboard platform allows you to remotely manage all of your machines, check the status of machines, see cash available in the cashbox and the recycler, see and manage all the orders, adjust your KYC levels, company details, fees and much more. |
| Enterprise solution: | ChainBytes is mostly catering toward enterprise clients who are looking to develop a wide network of BTMs. The home screen of BTMs is customizable to display the operator's brand and website address. The optional "Auto Payment" feature is a handy tool for operators who wish to automatically split the fee between partners or location hosts. |
| Software: |  ChainBytes+ Bitcoin ATM needs to be connected to ChainBytes server software service called Dashboard.  The Dashboard service fee is 1% of transaction volume.  ChainBytes provides software updates remotely every time when a new update is available. |
| | |
| --- | --- |
| Power Supply: | 110V- 230VAC±10% 50HZ±1HZ (US, Japan, Australia, Asia, Europe and other) |
| Languages: | Belorussian (BY), Chinese (ZH), Croatian (HR), Dutch (NL), English (EN), Estonian (EE), Filipino (PH), French (FR), German (DE), Hungarian (HU), Italian (IT), Japanese (JA), Kazakh (KK), Korean (KO), Latvian (LV), Lithuanian (LT), Macedonian (MK), Norwegian (NO), Portuguese (PT), Polish (PL), Romanian (RO), Russian (RU), Serbian (SR), Slovenian (SL), Slovakian (SK), Spanish (ES), Swiss German (DE-CH), Ukrainian (UK), Vietnamese (VN) or download file from our website and translate into any additional language yourself! |
| Currencies supported: | More then 120 currencies (Default currency is USD) |
| Crypto address entry: | 2D QR Scanner and Camera |
| Monitor: | 22″ Touch Screen Monitor Brightness 250-400 Contrast:400: 1 Touch Screen Resolution: 4096 x 4096 |
| Cash Box Capacity: | 1000 banknotes |
| PC: | CPU, Mainboard, RAM, HardDisk, Graphics |
| Internet connectivity: | WiFi (b/g/n) + Ethernet |
| Camera: | Logitec C920 |
| Printer: | Custom K80 Thermal Printer |
| Audio: | 2 Speakers |
| Security: | Optional: Alarm and GPS tracking (not included in the price) |
| 2nd Monitor: | Top mounted, remotely operated for displaying marketing campaigns |
| Cabinet Material: | Cold Roll Steel |
| Dimensions: | 22″x 24″x 70″ / 55x60x168cm 22″ (55cm) long by 24″ (60cm) wide by 66″ (168cm) height – this model can be ordered in 2 different sizes, please inquire about your preferred size |
| Warranty: | 1 year |
| Mounting options: | Can be mounted to the floor. |
| Gross Weight* | 140kg / 300lbs (According to the installation of different parts of the deviation) |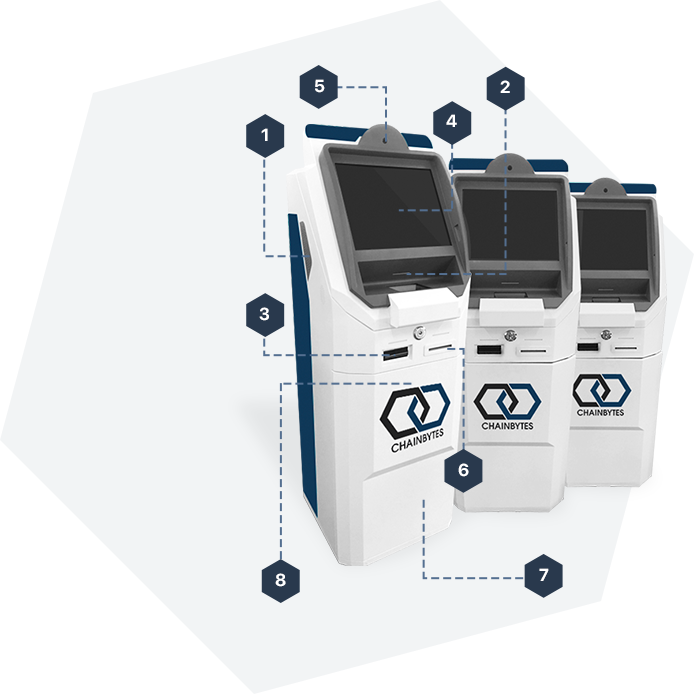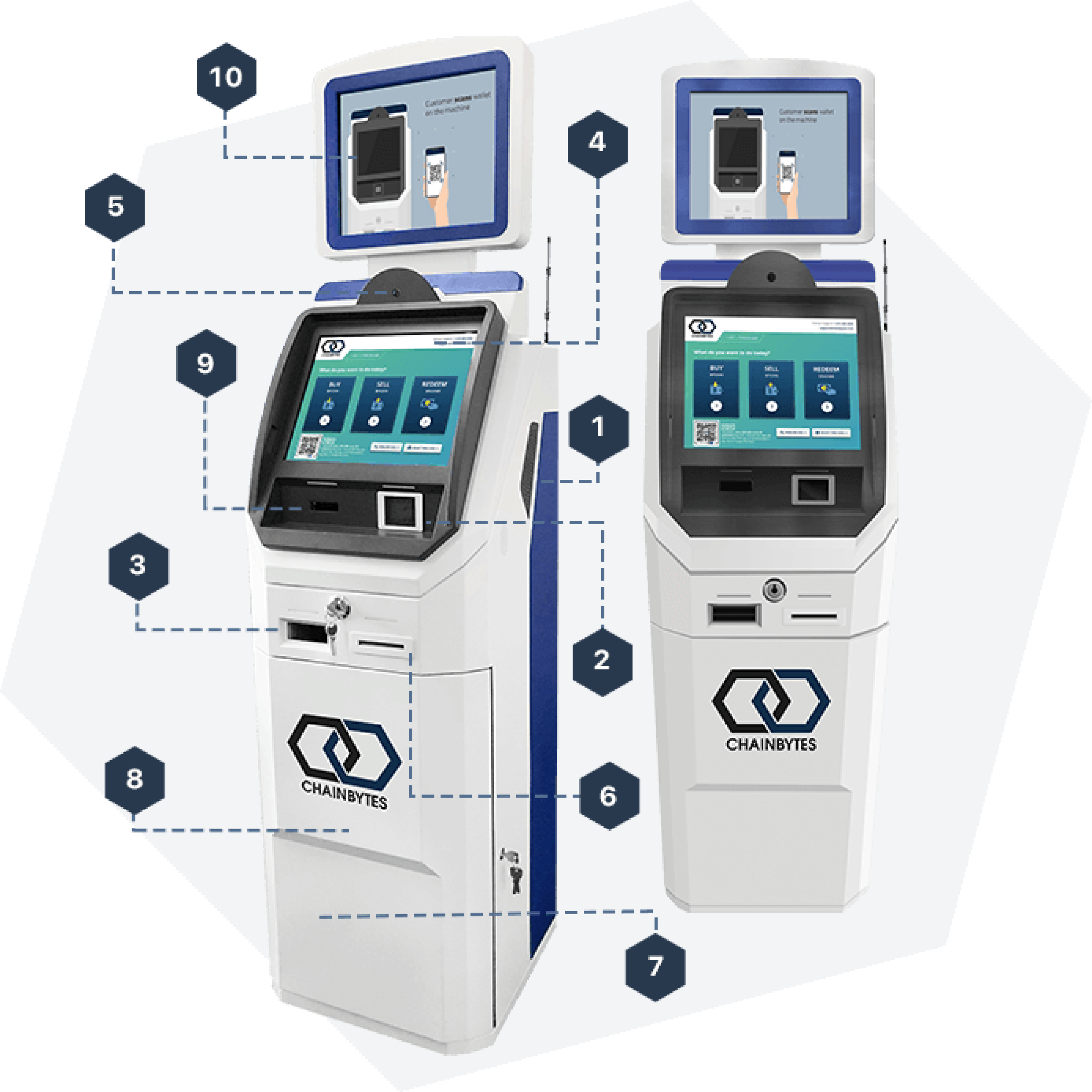 ChainBytes Universal + Top screen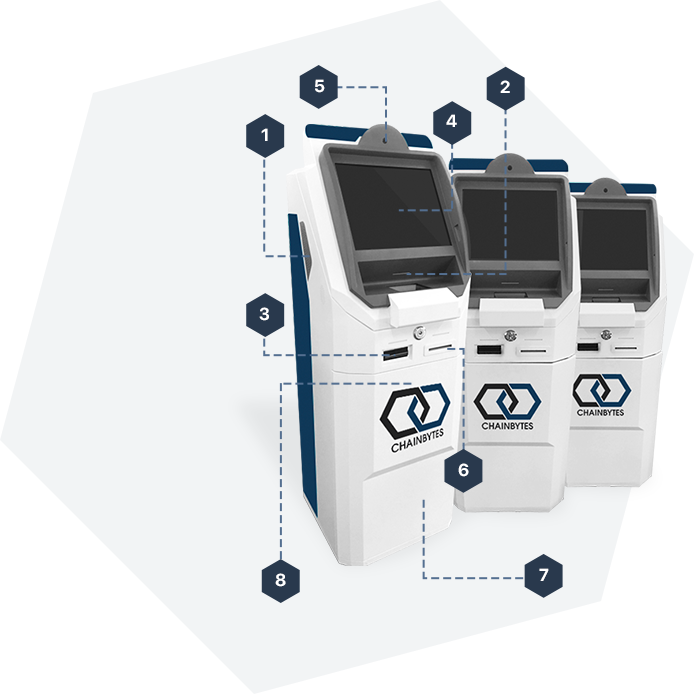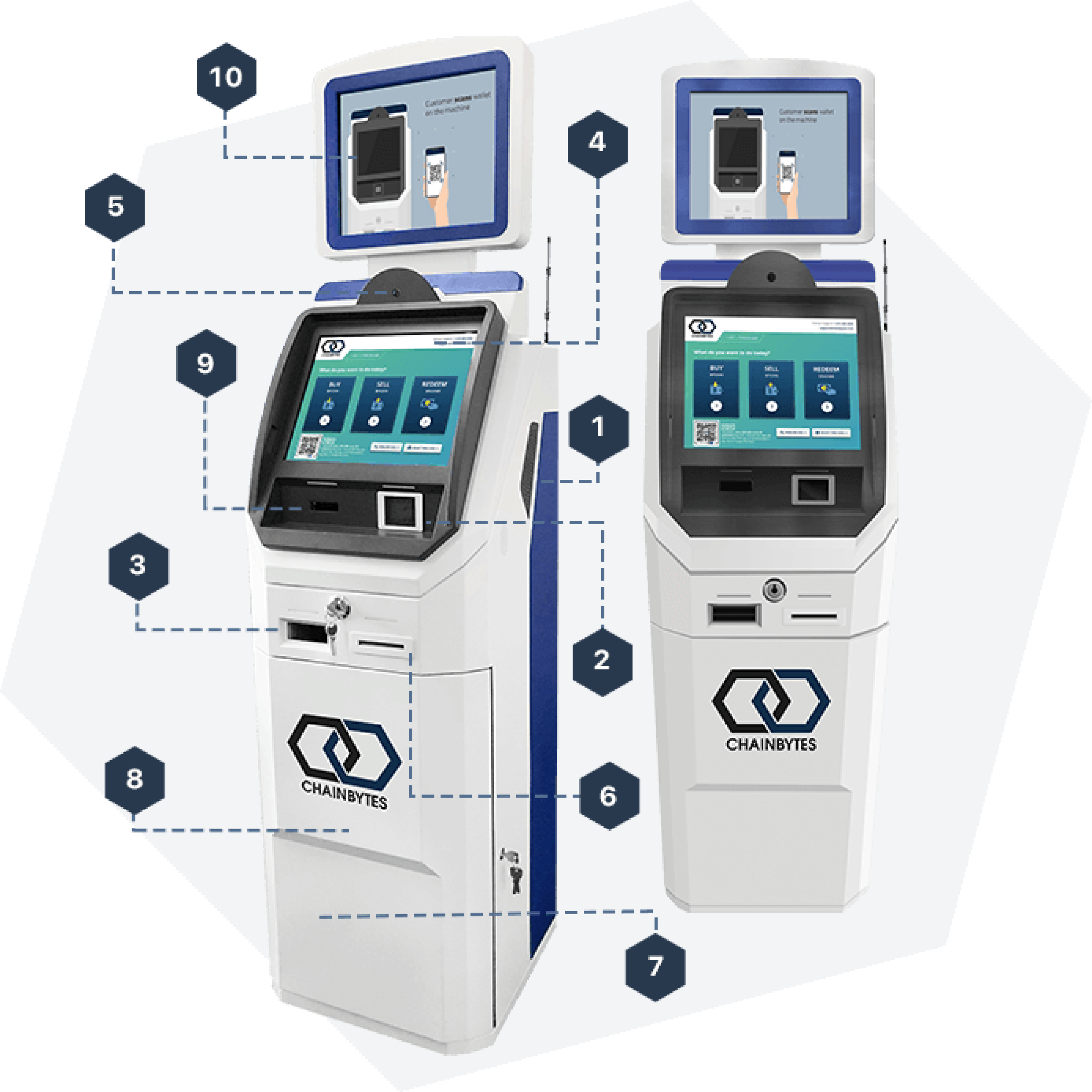 ChainBytes Universal + Top screen