Right now, Bitcoin and cryptocurrency adoption is increasing. The total market cap of digital assets recently hit an all-time high of $2 trillion dollars in 2021. This growth is creating demand for new services to help promote the adoption of digital currency. 
One of these new services is the Bitcoin ATM. 
Bitcoin ATMs are machines that allow users to buy and sell Bitcoin and other cryptocurrencies in exchange for cash. Transactions are fast, easy, and occur in real  time.    
Much like the growth of cryptocurrency, the number of Bitcoin ATMs worldwide also skyrocketed in 2021. In August of 2020, there were a total of around 9,000 machines.  A year later, there were just under 25,000 deployed machines. This is an indication that as Bitcoin becomes more valuable, the market demand for these machines is also  increases. 
How can you profit from the growth of Bitcoin ATMs?
Bitcoin ATMs help meet the growing demand for Bitcoin adoption and transactions. Working with ChainBytes, businesses can learn about becoming either "operators", "partners", or "hosts" for these machines. The ROI will depend upon several factors, such as the following:    
Location of the business (e.g. commercial district, high-traffic) 

 

Number of daily transactions    

 

Average transaction size (e.g. amount users transact) 

 

Total expected revenue from transaction fees   

 

Marketing strategy to promote your Bitcoin ATM                 

 
According to estimates from CoinATMRadar, one Bitcoin ATM machine has the potential to earn up to $3,000 a month (e.g. $36,000/year) with gross monthly revenues of $30,000. This can go even higher with an increase in the volume of transactions.  
Partners

 share a percentage of revenues with an operator. 

 

Hosts 

are paid a

fixed monthly fee (or rent) from an operator in exchange for space.   

 

Operators

 can have several machines under management and benefit from a variety of revenue models working with partners, hosts, and independently.

 
Bitcoin ATMs can be a profitable business with proper care and management of operations. They also have the potential to increase foot traffic in retail stores and further grow already established businesses. 
ChainBytes, is a premium Bitcoin ATM manufacturer that produces high-quality machines with state-of-the-art hardware and software. They also connect you with help to manage technical and regulatory compliance matters. If you're looking to expand your business into Bitcoin ATMs, or start a side-hustle contact us for more information!  
Follow us on Social Media: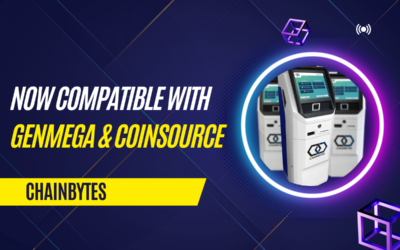 Software for GenMega & Coinsource Bitcoin ATMs We are happy to announce that our software now supports GenMega (example: Coinsource and other GenMega white-labeled). Companies that in their fleet have and operate GenMega Bitcoin ATM machines will now have...