CHAINBYTES 1 WAY DESKTOP TYPE
Bitcoin ATM supports 1-way operation (Buy Bitcoin)
Body Material: Cold Rolled Steel
Camera
LCD Monitor
Printer
2D Barcode/ID Scanner
Cash Acceptor
Steel Housing
Speaker
Fast ROI
With it's competitive price, 1-way Desktop model is the best choice for companies looking to enter the Bitcoin ATM market and scale business fast. It's one of the most complete solutions on the market, it allows you to quickly return the investment and expand the operation. Our operators are reporting 3-6 month ROI.
Easy Placement
Desktop model is designed for easy placement at locations with limited space. Compact in size but still packed with all essentials as a printer, scanner, camera and cash receiver it will respond to all Operational needs without taking much space.
Build your Brand
A combination of premium hardware components, eye-catching design, small footprint and high customization options, this kiosk presents the perfect industry solution for companies looking to establish their unique brand in the Bitcoin ATM Market.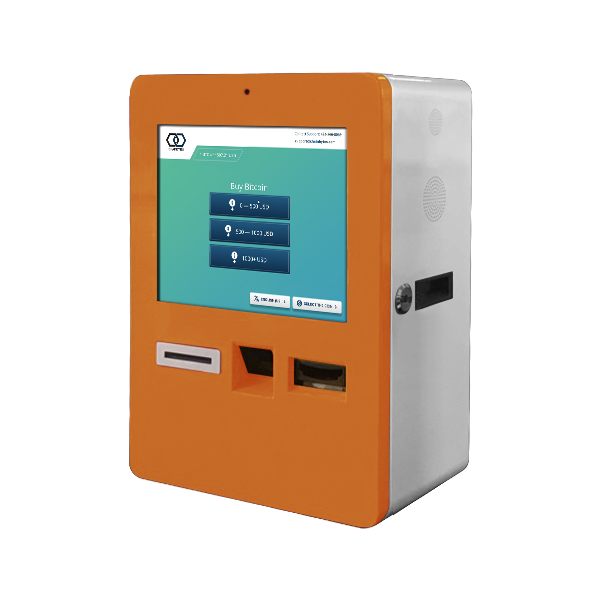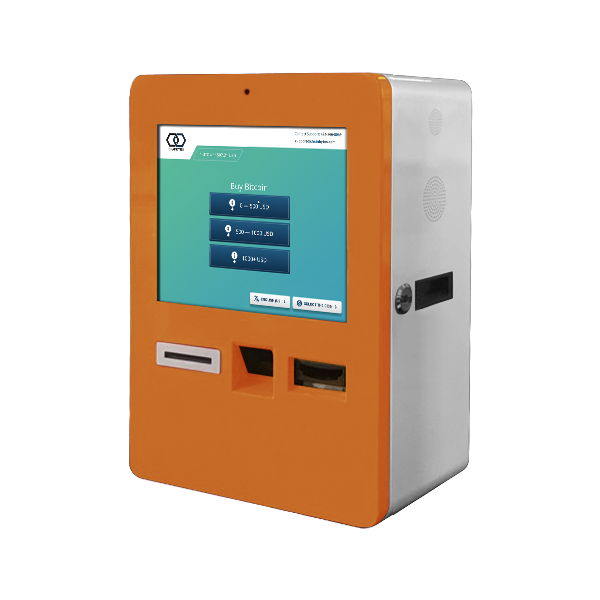 Compliance Package  $1500
Provided by 3rd party – BTMcompliance LLC. Package includes: Designated Compliance officer, Registration with FinCEN, KYC/AML compliance program tailored to the risk assessment of your locations. Not included: Monthly fee of $100 for transaction clearance (SAR, CTR Filings)
Other Bitcoin ATM Models From  $6500
Our 2-way self-standing model supports both buy and sell transactions, and it's more suitable for placement at the high foot traffic locations like malls, large stores or gas stations.
| | |
| --- | --- |
| Desktop Model: | ChainBytes 1-way Desktop type model was introduced in 2017 and it was an immediate success proving exceptionally fast ROI . This model supports only Buy Bitcoin function and is perfect for those operators looking to enter the industry and quickly start operation. |
| Placement: | ChainBytes 1-way Desktop model is designed as desktop unit, perfect for placing at safe locations with limited space. It can sit on counters in smalls shops, calling stations or any location that can benefit from small footprint Bitcoin ATM. |
| Wallets: | Bitcoin ATM's provide a way for customers to buy crypto-currency in a simple and secure way. Operators are owners of the wallet, ChainBytes do not store operator's funds. |
| Printer: | ChainBytes 1-way Desktop model is equipped with Custom k-80 printer and while this model is small in size it still allows you to comply with government regulations of obligatory issuing receipt to customers. |
| Dashboard: | Our back-office Dashboard platform allows you to remotely manage all of your machines, check the status of machines, see the cash available in the machine, see all orders, adjust your KYC levels, company details, fees and much more. |
| Enterprise solution: | ChainBytes is mostly catering toward enterprise clients who are looking to develop a wide network of BTMs. Home screen of BTMs is customizable to display operator's brand and website address. Optional "Auto Payment" feature is a handy tool for operators who wish to automatically split fee between partners or location host. |
| Software: | ChainBytes 1-way Desktop kiosk needs to be connected to ChainBytes software and Dashboard.  The software license fee is 1% of transaction volume.  ChainBytes provides service of software updates remotely every time when a new update is available. |
Power Supply:
90v to 260v 50/60Hz adjustable power supply
Languages:
Belorussian (BY), Chinese (ZH), Croatian (HR), Dutch (NL), English (EN), Estonian (EE), Filipino (PH), French (FR), German (DE), Hungarian (HU), Italian (IT), Japanese (JA), Kazakh (KK), Korean (KO), Latvian (LV), Lithuanian (LT), Macedonian (MK), Norwegian (NO), Portuguese (PT), Polish (PL), Romanian (RO), Russian (RU), Serbian (SR), Slovenian (SL), Slovakian (SK), Spanish (ES), Swiss German (DE-CH), Ukrainian (UK), Vietnamese (VN) or download file from our website and translate into any additional language yourself!
Currencies supported:
More then 120 currencies (Default currency is USD)
Crypto address entry:

2D QR Scanner and Camera

anner
Monitor:
10.4″ touchscreen
PC:
CPU, Mainboard, RAM, HardDisk, Graphics
Internet connectivity:
WiFi (b/g/n) + Ethernet
Thermal Printer:
Receipts and Paper wallet printer
Audio:
2 Speakers
Dimensions:
17″ (45cm) long by 12″ (32cm) wide by 26″ (65cm) height
Warranty:
1 year
Mounting options:
Desktop placement.
Gross Weight*
42kg / 92lbs (According to the installation of different parts of the deviation)
Note: * According to the different parts of the installation will be based