How to purchase a Bitcoin ATM
If you're looking for a way to get your business involved in the crypto market easily, investing in a Bitcoin ATM now might be exactly what you're looking for. And the best news? This article will tell you not only the benefits of such an investment but will also help you decide which Bitcoin ATM fits your business best.
How does a Bitcoin ATM work?
Before we delve into the different types of Bitcoin ATMs available, there's one thing we must explain first, namely, "How does a Bitcoin ATM work?"
Most entrepreneurs who want to get involved in the Bitcoin ATM business do not know a lot about the technical background of Bitcoin – and that is completely fine. While it might be beneficial to understand the basic mechanisms of blockchain technology and cryptocurrencies, it's not at all necessary to be an expert on crypto if you wish to operate a Bitcoin ATM.
A Bitcoin ATM's system is pretty easy to understand and is very similar to that of a traditional ATM. Customers who want to purchase or sell cryptocurrencies can do so with the help of a Bitcoin ATM (also known as a BTM) and some cash. If, for example, you want to buy some Bitcoin, you can carry out the transaction within a few minutes with a BTM. The process goes like this,
Select the range in which you wish to buy bitcoins.
Scan the address of the "wallet" you want the crypto deposited into. A wallet can be an app that can be installed on a smartphone or computer.
Insert the cash into the Bitcoin ATM machine.
From there, bitcoin will automatically arrive in your wallet.
As Bitcoin ATMs are all about increasing the ease of crypto purchases and sales, the location of the machines is of vital importance. You can usually find these in stores, bars, gas stations and restaurants that are easily accessible. Just like traditional ATMs, the more people use the machines, the higher the return on your investment. The entrepreneurs who decide to deploy a Bitcoin ATM in their businesses can not only count on an additional revenue stream, but also on increased traffic and even networking and marketing opportunities.
The appeal of Bitcoin ATMs is definitely rising. While in 2019 the global crypto ATM market only accounted for just over $18 million, it is expected to reach over $540 million by 2027. The US market is a particularly fast growing one. According to CoinATMRadar, there were just over 4,000 BTMs in the US at the beginning of 2020. As of today, this number has risen to over 23,000.
The best Bitcoin ATM for your business
So now that you made the decision to purchase Bitcoin ATMs for your business. Where should you turn to? What kind of machines are available on the market and, most importantly, which one fits your business best?
At ChainBytes, we offer a variety of Bitcoin ATMs to cover all possible needs. The two main models are the ChainBytes 2-way and the ChainBytes+.
The ChainBytes 2-way, which is currently available at the price of $6,500, offers premium hardware components, high customizability, and state-of-the-art software. It is perfect for entrepreneurs and enterprise clients as absolutely no technical knowledge is needed for operation. These ATMs are a "Plug and Play" solution. This means that all updates are managed remotely by our expert staff.
The ChainBytes+ has everything the ChainBytes 2-way has to offer and more. It features a second top-mounted screen that can be used for displaying promotional materials for either your business or third-party companies. This model, introduced in 2018, was an instant success within the crypto ATM sphere.
The process of how to purchase a Bitcoin ATM from our website is very straightforward. Just click on the Order ATM button at the top right of our website, fill out the short order inquiry, and a sales representative will get in touch with you very shortly.
One of the biggest benefits of purchasing from ChainBytes is the additional compliance solution. Provided by BTMCompliance, the compliance package includes registration with FinCEN, a designated compliance officer, plus a custom KYC/AML compliance program that is customized for your company's needs.
As the Bitcoin ATM market is growing even bigger every day, now is the perfect time to invest in a BTM for your business!
Follow us on Social Media: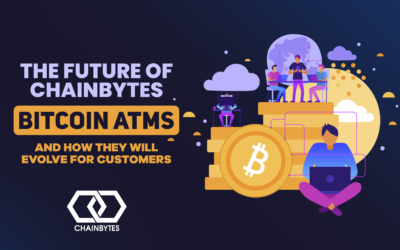 ChainBytes, a leading BTM manufacturer, has been at the forefront of this trend, providing users with reliable, durable, and user-friendly machines. In this article, we will take a closer look at the future of the ChainBytes Bitcoin ATM and how it will continue to...