Obtaining a Bitcoin ATM for your business might seem difficult at first as there are a lot of details to consider. Our quick five-step guide below will help you find, purchase, and get your machines up and running with ease!
Five steps for, "How to get a Bitcoin ATM":
Do your research.
Purchase your Bitcoin ATMs.
Set up your Bitcoin ATMs.
Take care of compliance issues.
Operate and market your machines!
Do your research
The most important part of getting a Bitcoin ATM is doing research pre-purchase. In this step, you figure out which kind of Bitcoin ATMs will work best for your needs. Buying a Bitcoin ATM is a long-term investment, so it's important to find a manufacturer that produces high-quality machines that run on easy-to-use, reliable software.
To learn more about ChainBytes' Bitcoin ATMs, click here.
Useful items to research include,
What kinds of Bitcoin ATMs are in your local area (what types, how many, what locations, etc.)?
What kinds of cryptocurrencies do you expect to sell through your machines? Are the machines you are considering compatible?
What are the typical transaction fees for machines, and how do they vary in your area?
Are there special financial regulations operators in your state? If so, what are they?
Purchase your Bitcoin ATMs
Once you've done your research and decided which manufacturer best meet your needs, the next step is to actually purchase your machines. At ChainBytes, purchasing Bitcoin ATMs is easy in two ways:
Always remember, that buying in bulk or paying with Bitcoin can get you an extra discount!
Setting up your Bitcoin ATMs 
Once your machines are purchased and delivered to your business, you can now focus on setting them up.
'Plug and Play' machines, like the ones that ChainBytes offers, allow customers an easy and accessible way of setting up machines. This means no specific technical knowledge is required for getting your machines in operation. Be careful about this though, as not all manufacturers are the same in this regard! 
You will also need to make sure that you have a steady supply of Bitcoin and cash to meet customers' needs once you're up and running.
To secure a supply of Bitcoin to sell through your machines, you will want to set up a "hot wallet". Your hot wallet holds the supply of Bitcoin available for customers to purchase through your Bitcoin ATMs.
Take care of compliance issues
Maybe the most intricate part of operating Bitcoin ATMs is compliance. Rules and regulations in respect to cryptocurrency are rapidly changing. This can make it tricky to keep up with compliance obligations. But don't worry! If you're not well-versed in crypto law, there are businesses dedicated exclusively to solving these problems.
When you purchase your machines from ChainBytes, you can choose a federal compliance package offered by BTMCompliance, a leading Bitcoin ATM compliance solution provider.
This service not only helps you manage necessary registrations with financial authorities, but also helps you file reports and monitor for suspicious transactions.
Operate your Bitcoin ATMs
Now that your machines are plugged in, filled with cash, connected to your hot wallet, and in compliance with necessary regulations – there's surely nothing left to do, right?
Well, yes AND no.
While operating your Bitcoin ATMs won't require a lot of time and effort from your part, there are still some everyday tasks you will need to carry out. With companies like ChainBytes, the machine's dashboard will help you easily monitor the status of your machines along with all activities and transactions.
It is also important that you work to market your machines: Street signs, websites, social media, flyers, special events, press releases, and other promotions will help you spread the word about your new machines and bring you more customers.
Do you have any other questions on how to get started with your first Bitcoin ATM?
Get in touch with our sales representatives who will be happy to assist you with all you need to know about setting up and operating your very own Bitcoin ATM fleet.
Other Important Notes to Remember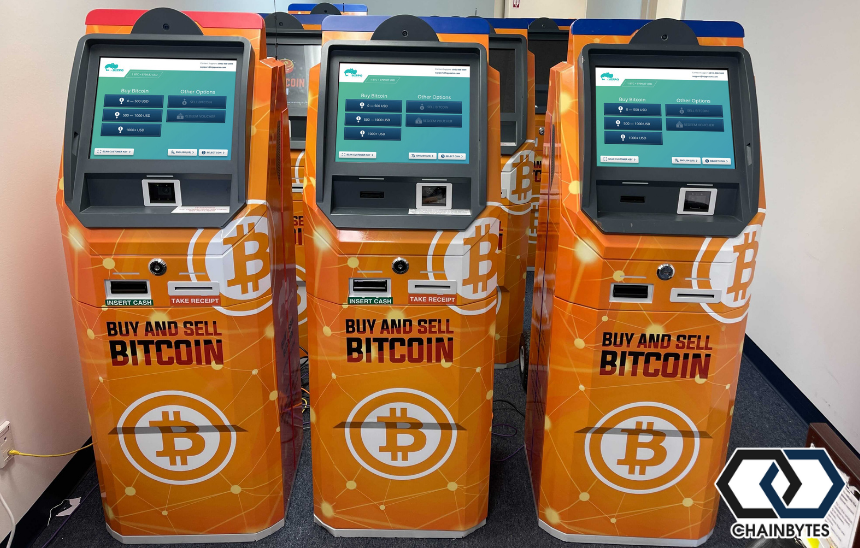 You might underestimate the process of owning a Bitcoin ATM business just because it is similar to a regular ATM investment.
Fortunately, ChainBytes will help you break down the details so you get started with your Bitcoin machine right away.
Here are some basic knowledge about operating cryptocurrency ATMs:
Customers don't need a bank account
That's the selling point of a Bitcoin ATM: it works more like a candy vending machine than a common ATM requiring a card before you can cash out. A customer will only need a digital wallet (aka Bitcoin wallet) and use its QR code to begin transactions.
A customer can finish withdrawing or depositing in a minute or less thanks to the streamlined process of the Bitcoin ATM.
Crypto is still growing
In simple terms, this is your chance to become part of something greater in the future. Once Bitcoin goes into the mainstream, you'll find more people flocking to your machine, buying Bitcoin or selling them for fiat currencies. That means more foot traffic as well!
As more businesses adopt blockchain transaction systems, now could be the best time to set up a machine for customers to buy Bitcoin.
A Bitcoin ATM is one of the few ways to start investing in crypto — and one of the safest methods to buy Bitcoin compared to using an online app.
Bitcoin ATMs are more secure than cryptocurrency exchanges
Long story short, a cryptocurrency exchange is an online app or browser where you can purchase digital currency on the fly. While it sounds easier than going to a physical ATM, it is much more dangerous.
Companies like Binance, Coinbase, Crypto.com and FTX are centralized exchanges — companies that hold your crypto, not you. In case an exchange shuts down and your crypto investments are there, they will be lost. For example, on November 2022, FTX filed for bankruptcy after it had liquidation problems and allegedly used customer funds for trading. When the exchange fell down, people who did not exit beforehand lost everything.
With a Bitcoin ATM, your customer will never need to worry about all that. Most of all, people who do transactions with an ATM have full custody of their money. Even if the company that manufactured the ATM closes down, the people's crypto investments remain unaffected, given that their money is in their digital wallet.
As the saying goes, "Not your keys, not your coins."
It's the same way how people have full custody of their money with cash instead of keeping their hard-earned money in the bank.
Bottom Line: Setting Up Doesn't Have to Be Complicated
Mostly, having a Bitcoin ATM business is not as complicated as you might expect… given that you contact the right company to help you out. That's what ChainBytes is for. If you are looking to begin your crypto ATM business and answers to your Bitcoin ATM questions, feel free to contact us today.
Follow us on Social Media: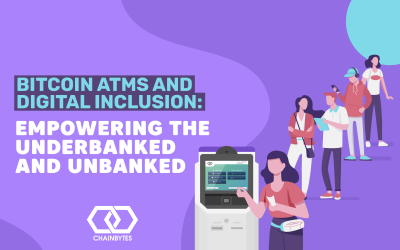 Introduction As our global financial system continues to transform, spurred by the advent of financial technology, there's a rising focus on bringing cryptocurrency to all corners of society. However, a significant portion of the population - the underbanked and...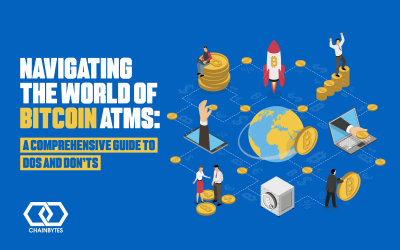 Introduction As the world of cryptocurrency expands, so does the infrastructure supporting it. Bitcoin ATMs have become one of the most sought-after services in the cryptocurrency ecosystem. With over 19,000 Bitcoin ATMs operating globally, it's crucial to know how to...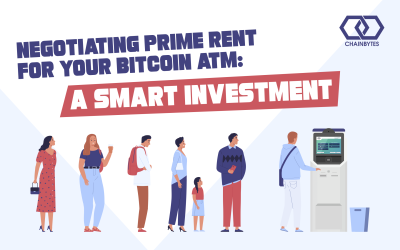 Learn about rent prices for Bitcoin ATM locations and how to negotiate the rent with potential store owners. In this article, we are bringing the best practices for renting a Bitcoin ATM location.