Obtaining a Bitcoin ATM for your business might seem difficult at first as there are a lot of details to consider. Our quick five-step guide below on will help you find, purchase, and get your machines up and running with ease!
Five steps for, "How to get a Bitcoin ATM":
Do your research.

 

Purchase your Bitcoin ATMs.

 

Set up you Bitcoin ATMs.

 

Take care of compliance issues.

 

Operate and market your machines!     

 
Do your research
The most important part of getting a Bitcoin ATM is doing research pre-purchase. In this step, you figure out which kind of Bitcoin ATMs will work best for your needs. Buying a Bitcoin ATM is a long-term investment, so it's important to find a manufacturer that produces high-quality machines that run on easy-to-use, reliable software.  
To learn more about the ChainBytes' Bitcoin ATMs, click here.  
Useful items to research include,  
What kinds of Bitcoin ATMs are in your 

local area

 (what types, how many, what locations, etc.)?

 

What kinds of cryptocurrencies do you expect to sell through your machines? Are the machines you are considering compatible? 

 

What are the typical 

transaction fees

for machines, and how do they vary in your area?

 

Are there special financial regulations operators in your state? If so, what are they? 

 
Purchase your Bitcoin ATMs
Once you've done your research and decided which manufacturer best meet your needs, the next step is to actually purchase your machines. At ChainBytes, purchasing Bitcoin ATMs is easy: 
Always remember, that buying in bulk or paying with Bitcoin can get you an extra discount!       
Setting up your Bitcoin ATMs 
Once your machines are purchased and delivered to your business, you can now focus on setting them up.
'Plug and Play' machines, like the ones that ChainBytes offers, allow customers an easy and accessible way of setting up machines. This means no specific technical knowledge is required for getting your machines in operation. Be careful about this though, as 

not all manufacturers are the same in this regard! 

 

You will also need to make sure that you have a steady supply of Bitcoin and cash to meet customers' needs once you're up and running. 

 

To secure a supply of Bitcoin to sell through your machines, you will want to set up a "

hot wallet

". Your hot wallet holds the supply of Bitcoin available for customers to purchase through your Bitcoin ATMs. 

 
Take care of compliance issues
Maybe the most intricate part of operating Bitcoin ATMs is compliance. Rules and regulations in respect to cryptocurrency are rapidly changing. This can make it tricky to keep up with compliance obligations. But don't worry! If you're not well-versed in crypto law, there are businesses dedicated exclusively to solving these problems.  
When you purchase your machines from ChainBytes, you can choose a federal compliance package offered by BTMCompliance, a leading Bitcoin ATM compliance solution provider.  
This service not only helps you manage necessary registrations with financial authorities, but also helps you file reports and monitor for suspicious transactions.  
Operate your Bitcoin ATMs
Now that your machines are plugged in, filled with cash, connected to your hot wallet, and in compliance with necessary regulations – there's surely nothing left to do, right?  
Well, yes and no!  
While operating your Bitcoin ATMs won't require a lot of time and effort from your part, there are still some everyday tasks you will need to carry out. With companies like ChainBytes, the machine's dashboard will help you easily monitor the status of your machines along with all activities and transactions.   
It is also important that you work to market your machines! Street signs, websites, social media, flyers, special events, press releases, and other promotions will help you spread the word about your new machines and bring you more customers. 
Do you have any other questions on how to get started? Get in touch with our sales representatives who will be happy to assist you with all you need to know about setting up and operating your very own Bitcoin ATM fleet! 
Follow us on Social Media: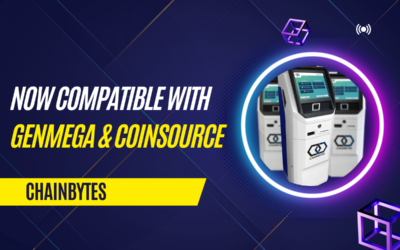 Software for GenMega & Coinsource Bitcoin ATMs We are happy to announce that our software now supports GenMega (example: Coinsource and other GenMega white-labeled). Companies that in their fleet have and operate GenMega Bitcoin ATM machines will now have...