Bitcoin ATMs are fast becoming one of the most convenient ways to buy and sell Bitcoin and other cryptocurrencies in the U.S. But how much does it really cost to buy and set up a Bitcoin ATM? What is the average Bitcoin ATM price? And how much is too much? 
Different types of Bitcoin ATMs and what they offer
Before we dive into actual Bitcoin ATM prices, we have to distinguish between the different types of Bitcoin ATMs. This is important because the specific features offered impact the cost.  
Some key elements to think about include, 
One-way vs two-way Bitcoin ATMs.

 A one-way Bitcoin ATM can only be used to buy cryptocurrencies while a two-way machine allows both the purchase and sale of digital assets. In recent years, two-way machines have become the standard as they provide more functionality.

 

Cryptocurrencies supported.

 Bitcoin ATMs differ in the cryptocurrencies they support. There are machines that only let customers buy and sell Bitcoin, while others offer a wide variety of coins – such as, Dogecoin, Litecoin, or Ethereum.

 

Hardware and software

. Manufacturers have significant differences in the hardware and software components they use. Bitcoin ATMs are a long-term investment, so premium quality materials are more likely to pay off in the long run. 

 
Bitcoin ATM Prices:
Currently, there is a wide range in price for Bitcoin ATMs. Depending on the model and the manufacturer you choose, the price can vary between $6,000 to even $15,000 for a two-way machine. Given the cost differences, it's important to do research about what machine best suits your needs. 
ChainBytes Bitcoin ATMs
At ChainBytes, we offer one model, The Universal, with possible add-ons. The current base price of this machine with no add-ons is $6,500 plus shipping.* Features on this machine include, 
Two-way Bitcoin ATM

 

19" touch screen monitor

 

Audio amplifiers 

 

Cash recycler

 

Thermal Printer 

Sturdy steel housing

2D Barcode/ID scanner

 

Built in camera

 

Plug-and-play set up

 
ChainBytes also offers the Universal Machine with add-ons. These machines include all the features listed above, but also add, 
A top mounted screen that allows owners to display promotional/advertising materials for their business. This adds an additional $300 to the $6,500 for the machine. 

 
An S&G 6124 lock, which provides an additional layer of protection and helps you meet requirements for armed cash-service providers. This adds an additional $340 to the $6,500 for the machine. 

 
Like any investment, it's important to do your research and figure out what Bitcoin ATMs work best for your business. To learn more about ChainBytes Bitcoin ATM machines or about how to start a Bitcoin ATM business, feel free to contact us today to speak with a representative.  
*Reflects December 2021 prices. Prices subject to change. Contact sales department for more details. 
Follow us on Social Media: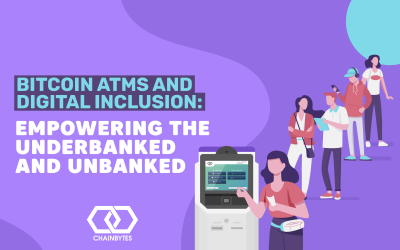 Introduction As our global financial system continues to transform, spurred by the advent of financial technology, there's a rising focus on bringing cryptocurrency to all corners of society. However, a significant portion of the population - the underbanked and...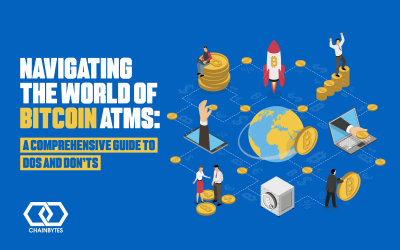 Introduction As the world of cryptocurrency expands, so does the infrastructure supporting it. Bitcoin ATMs have become one of the most sought-after services in the cryptocurrency ecosystem. With over 19,000 Bitcoin ATMs operating globally, it's crucial to know how to...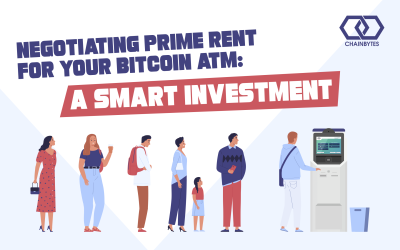 Learn about rent prices for Bitcoin ATM locations and how to negotiate the rent with potential store owners. In this article, we are bringing the best practices for renting a Bitcoin ATM location.