If you're looking to get into the bitcoin ATM business, it's important to understand its benefits over a traditional online crypto exchange. Bitcoin ATMs (BTMs) are much easier to use and can be found in various physical locations, making them a convenient option for those looking to buy or sell bitcoins.
All your customers need in a Bitcoin ATM is a digital wallet to do transactions — no credit cards or bank accounts are needed.
If you are planning to become a Bitcoin ATM operator, but you have no idea about the differences, and why anyone would use a Bitcoin ATM over an exchange continue to read the article below to have a better understanding of the benefits of using Bitcoin ATMs over traditional exchanges for buying and selling cryptocurrencies.
Also, be sure to check out the machines you might like to operate, courtesy of ChainBytes.
Bitcoin ATM vs Crypto Exchange: The Rundown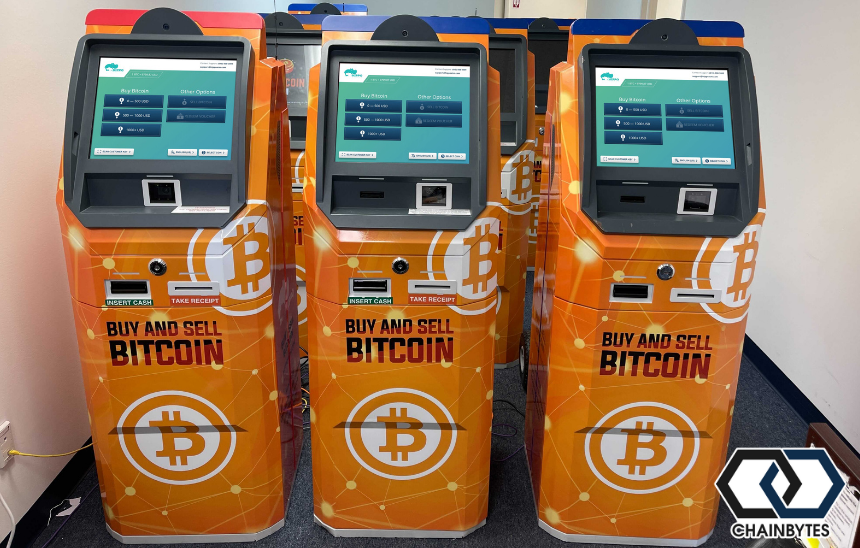 You may feel overwhelmed with all the lingo lurking in the cryptocurrency world. According to reports from Cointelegraph and CoinDesk, more than 90% of people are completely new to this industry, while only around 1 to 10% properly know how it works. You keep hearing about "Bitcoin this" or "Ethereum that", and you read the news seeing how a 17-year-old boy made millions of dollars from Bitcoin or got confused about why Elon Musk never stopped talking about Dogecoin.
You and thousands of others might wonder, "Where do I even buy Bitcoin or any of this so-called cryptocurrency?"
The answer comes in two forms: a Bitcoin ATM and a crypto exchange.
A Bitcoin ATM does a few simple things:
It lets a customer buy Bitcoin using cash locally at a physical kiosk
It lets a customer sell Bitcoin for cash locally again using a familiar physical kiosk
That's it, really.
Let's clarify why the BTM is safer than an online exchange.
Bitcoin ATMs Provide Full Custody
The best thing about a Bitcoin ATM is that it does not need a person's bank account. It only requires a crypto wallet address so the machine can scan the QR code to begin the transaction.
After that, it's like a candy vending machine: pick what you like, put in cash, and get it. Bitcoin (or any supported crypto) will automatically transfer to the wallet address once the transaction is complete.
Operators can set additional requirements to comply with AML/KYC regulations, but the entire process from the customer's point of view is simple and it takes only a few minutes to complete; best of all, entire process is done at the physical kiosk, so the customers who are not tech-savvy and may not be proficient in using online platforms can easily buy or sell bitcoin at the machine, located in their neighborhood.
Moreover, customers own their cryptocurrency 100%. They keep their purchased Bitcoin in their wallets, meaning the bitcoin they have purchased previously remains unaffected even if the company that operates the ATM decides to close down.
A Crypto Exchange Does Not Let You Own Your Investments
Meanwhile, a crypto exchange has extra steps that customers need to do, including an elaborate signup process and complicated forms, documents uploading, and connection to their bank account, security of their login informations, the list goes on.
Once they complete the process — which commonly takes hours or days — and only then they can buy crypto. The complicated processes of buying Bitcoin on the exchange have left a lot of regular people behind unable to participate in the market due to complicated processes.
However, what they never told any customer is that in the event the company behind the crypto exchange goes down, so will the customers' funds, purchased Bitcoin left on the exchange and any crypto.
That is because people do not own their bought crypto there; the custody goes to the company. If something bad were to happen like the crypto exchange FTX in November 2022, which lost billions of dollars, users lose all their investments.
So, which do you think is safer and easier to use? A physical Bitcoin depot or an online exchange held by a centralized institution?
Obviously, it's the BTM. Customers can buy bitcoin easily, using a familiar kiosk and finalizing purchases locally at the Bitcoin ATM without complicated processes and days of approval processes connected to opening exchange accounts.
Buy & Sell Crypto Easily with Bitcoin ATMs
Bitcoin ATMs have been gaining in popularity and offer an easy way for buying and selling bitcoin without having to do any long online processing or require a user to sign up for an account.
The time to purchase Bitcoin and other cryptos only takes a few minutes. The user interface is seamless enough so even the most non-tech-savvy person in America can understand how to use it. It's easy to do, making turnovers between customers faster than a traditional ATM as long as they have their digital wallet ready.
Bitcoin ATMs are Easy to Find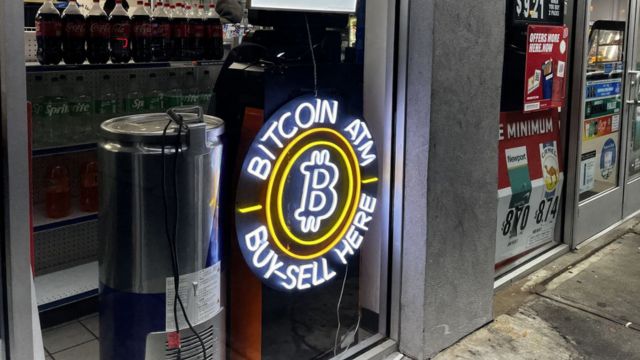 Bitcoin ATMs are easily distinguishable. High traffic also means more customers for your spot. For example, if customers live in Pennsylvania, they can find a local Bitcoin ATM at gas stations and convenience stores.
It's much better to place a Bitcoin ATM in a high-traffic area. More people means more potential customers!
Crypto Exchanges are Confusing for First-Timers
Exchanges make up a huge part of the cryptocurrency world. Unfortunately, these can often be complex and overwhelming for those who are just starting out. A cryptocurrency exchange allows users to perform transactions with different types of digital currencies for fiat (like the US dollar) or other cryptocurrencies, but this process can take a bit of getting used to due to the number of features and levels that must be understood before getting started.
In most exchanges, a person must first create an account, then add funds to that account via bank transfer or use Visa, PayPal, or MasterCard. Learning the behaviors and nuances particular to each exchange can be time-consuming and most times overwhelming. There's just so much jargon to understand like KYC, P2P trading, funds-to-spot-wallet, futures, liquidity farming, stop loss, buy limit, open orders, and a hundred more terms to understand.
These are some of the things exchanges never tell to people. Most of the time, they advertise their platforms as "Buy and sell in fast with just a few taps," but they never tell anything about long approvals and tedious registration processes.
Why This is a Lucrative Opportunity for Bitcoin ATM Operators
A lot of people just want to get things done in the simplest way possible. In the case of cryptocurrency where plenty of terms feel intimidating, many folks will prefer to buy and sell Bitcoin in the easiest way possible.
That's where you, the Bitcoin ATM operator, come in.
With a Bitcoin ATM, you can provide a solution to people looking to buy and sell crypto without having to navigate a complex exchange or deal with the complications of cryptocurrency trading. It's that glorious moment for a customer to scan their QR code and complete the transaction, which may only take less than a minute.
Plus, all funds are safe. Cash is stored in the ATM box and people's bitcoin are sent to their wallets.
Furthermore, you can make money while helping facilitate the growth of the cryptocurrency industry. This is an incredibly lucrative opportunity that provides both convenience and financial gain.
As we saw above, buying bitcoin at the online exchanges is a complicated process requesting technical knowledge of computers and security, understanding order books, and going through complicated processes of signing up, which most normal people do not want to go trough or simply do not have the necessary knowledge. Therefore obtaining Bitcoin is hard and it takes time. This is where the convenience of Bitcoin ATMs steps in and why operators of the Bitcoin ATMs can (and are) charging very high fees.
As of the time of this article majority of our operators are charging anywhere between 13%-20% of purchases. Making the Bitcoin ATM industry one of the more profitable industries with margins much higher than for example traditional ATM industry.
Bottom Line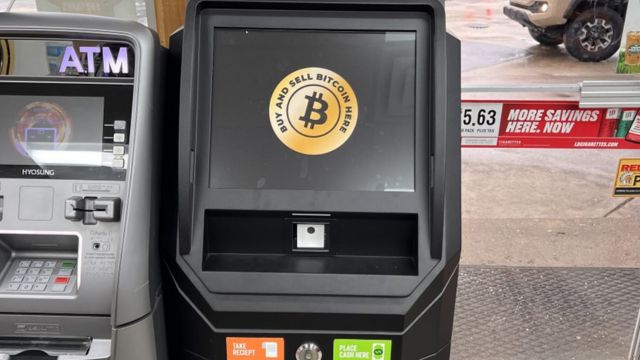 In conclusion, Bitcoin ATMs are a great way to quickly and easily buy or sell cryptocurrency. They don't require an account or online registrations, making it the most convenient method to purchase the future of money.
As long as they are placed in appropriate locations, Bitcoin ATMs make it simple for people to purchase or sell digital currency no matter where they are.
Cryptocurrency exchanges can seem confusing for those new to the technology, so access to a Bitcoin ATM is essential for anyone who wants to get involved in cryptocurrency without needing to understand the gimmicks of market terms. So if you've been looking to provide a solution for possible Bitcoin buyers near you, a BTM will solve it.
Looking to become an operator and have your first Bitcoin ATM? Be one today with ChainBytes! Contact us here.
Follow us on Social Media: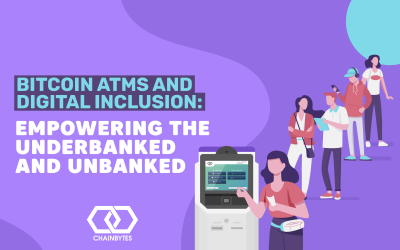 Introduction As our global financial system continues to transform, spurred by the advent of financial technology, there's a rising focus on bringing cryptocurrency to all corners of society. However, a significant portion of the population - the underbanked and...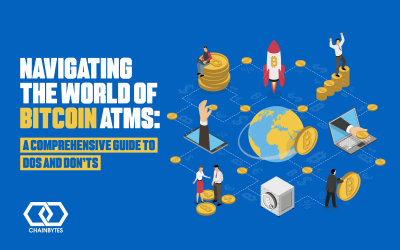 Introduction As the world of cryptocurrency expands, so does the infrastructure supporting it. Bitcoin ATMs have become one of the most sought-after services in the cryptocurrency ecosystem. With over 19,000 Bitcoin ATMs operating globally, it's crucial to know how to...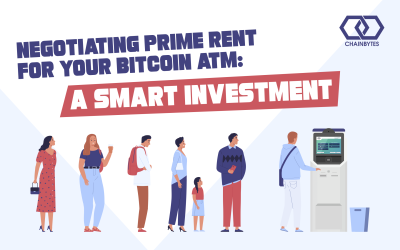 Learn about rent prices for Bitcoin ATM locations and how to negotiate the rent with potential store owners. In this article, we are bringing the best practices for renting a Bitcoin ATM location.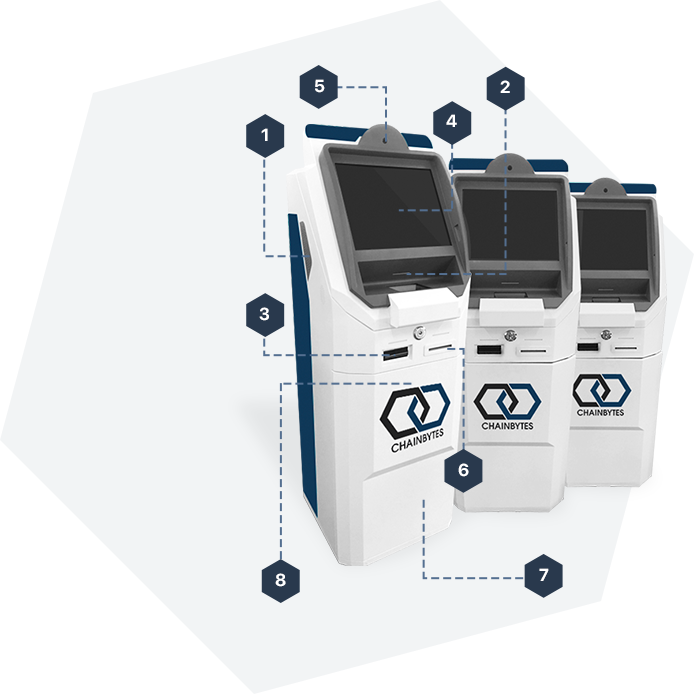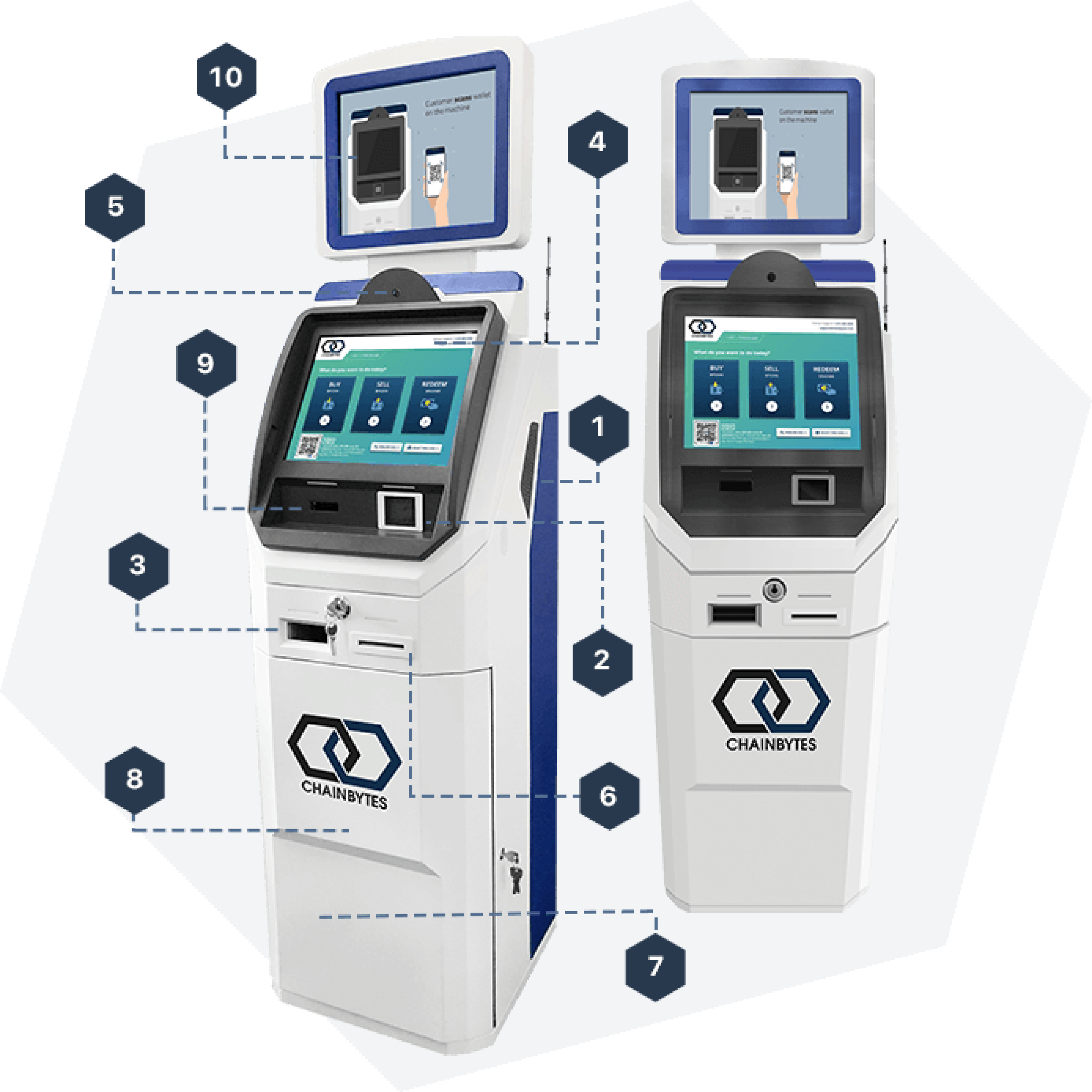 ChainBytes Universal + Top screen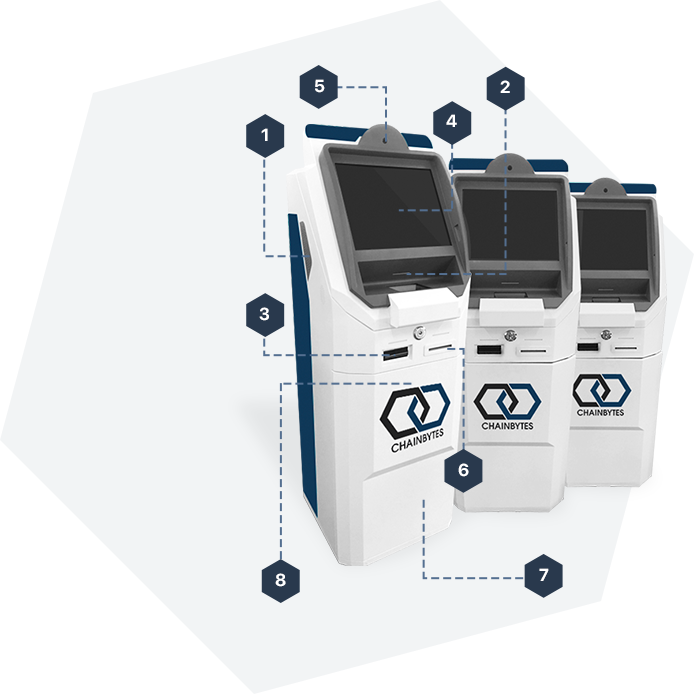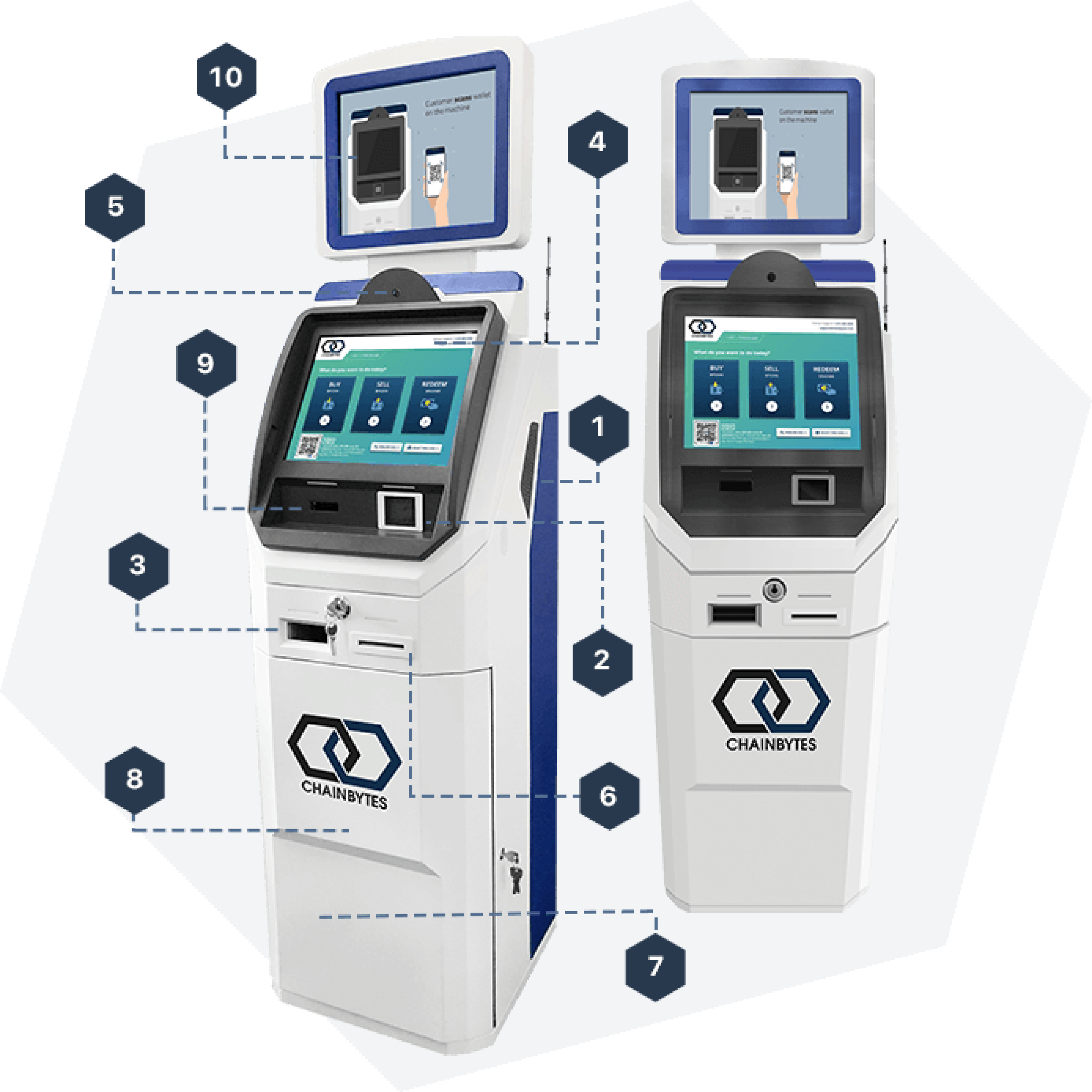 ChainBytes Universal + Top screen