5 reasons to invest in Bitcoin ATMs right now!

The demand for Bitcoin ATMs is growing at an increasingly fast pace in the United States. According to CoinATMRadar, there are currently more than 21,000 Bitcoin ATMs (or more widely known as BTMs) worldwide – out of which over 18,000 are located in the U.S. But why are Bitcoin ATMs becoming so popular? And more importantly, how can you and your business benefit from this?
Here are the top reasons why you should invest in Bitcoin ATMs right now.
Why are Bitcoin ATMs all the rage in the U.S.?
Bitcoin is a digital currency that emerged right after the financial crisis in 2008. The so-called cryptocurrency uses blockchain technology to verify transactions that make it extremely secure and not dependent on a central bank or third party. It has gathered popularity over the years as a payment method, an inflation hedge, and a store of value for investment purposes.
How do Bitcoin ATMs work?
While traditional ATMs let you withdraw and deposit cash to and from a bank account, Bitcoin ATMs work a little differently. You can use a BTM to buy and sell different cryptocurrencies in an easy and secure way.
For example, if you want to purchase some Bitcoin, you'll simply have to select how many Bitcoins you want to buy, insert cash into the machine, and then wait for the confirmation that the digital assets have been deposited into your digital wallet.
For people who wish to sell their Bitcoins, the process is straightforward as well. Just decide how much you want to sell and send the cryptocurrency to the indicated address. After the transaction is confirmed, collect the cash directly from the machine.
Top 5 reasons why you should invest in a Bitcoin ATM
1. To increase revenue
This one is almost a no-brainer. Growing your revenue is one of the main reasons people decide to get into the Bitcoin ATM business. Especially during the pandemic, more and more businesses are looking for alternative revenue sources. Bitcoin ATMs can provide businesses with two different potential revenue streams. The first is by collecting rent on the floor space the ATM occupies. The second is by earning a fee on transactions carried out on the machine in your store.
With transaction fees, the amount you receive depends on the level of commitment you're willing to put into operating the machine. It can vary between 12 and 18%. The more you do to promote your bitcoin ATM to more people, the more transactions you'll tend to have – increasing your transaction revenue.
2. To increase foot traffic for your business
Another benefit of operating or hosting a Bitcoin ATM at your business is that it can bring more people into your store. Bitcoin ATM locations are listed on websites like CoinATMRadar. Such websites help people locate BTMs nearest to them. When people come in to use your Bitcoin ATM – they will most likely become customers for your other products and services, as well.
Do you run a gas station? Getting your tank filled up while buying some Bitcoin can be an amazing pairing for your customers. Or maybe you happen to own a coffee shop? Purchasing Bitcoin while getting your morning cup of coffee and doughnuts sounds just about perfect.
3. To network with like-minded people
This is especially great for those businesses that have a bigger venue for hosting events, but even a coffee shop can do wonders with crypto-networking opportunities. The crypto community is all about making connections and finding the best up-and-coming projects before the masses do – and hence why networking is especially important.
Investing in a Bitcoin ATM can be the first step into making connections and finding like-minded people with which to network. You can easily organize events or meetups for local crypto enthusiasts. Events like these can also help local crypto fans know where to find your machine.
4. To get media coverage
Even today, a new BTM in town is newsworthy! Especially if you live in a smaller town or suburb, a shiny new Bitcoin ATM can be of public interest to a lot of people. There are tons of examples of local news media covering newly deployed machines. Being featured in a local newspaper or on a local news website can bring more attention and more customers to your business.
5. To keep your business modern
It's always good to know that your local business is keeping up with the times! Now is the perfect time to invest in a Bitcoin ATM as the cryptocurrency craze washes over the whole country. Bitcoin has been around for over a decade and it's here to stay. As such, it's a good idea to be sure that you're staying ahead of the curve!
How to invest in a Bitcoin ATM?
There are actually different ways you can get into the Bitcoin ATM business. The differences depend on how much effort you want to put in over time. Do you simply wish you had an ATM attracting extra people to your store without any extra effort on your part? Or do you want to get into the operational side of the business and increase your revenue even more?
We'll show you both ways, and then it's up to you to decide.
Hosting a machine
If you choose to host a machine with ChainBytes, you simply rent out the place the BTM takes up in your store. This means that you are guaranteed a monthly fee but that you don't have to deal with the everyday operational tasks (apart from minor things like replacing the paper in the machine). In this case, you'll earn a fixed amount every month regardless of how many people come into your store to use your machine.
Becoming an operator
If you wish to play a larger role in growing the business, you can become a Bitcoin ATM operator. This can include various responsibilities based on how much you want to get involved. But as your responsibilities grow, so does your potential revenue. As an operator, you will get an operational fee after each transaction processed by your customers. This means that every time someone buys or sells Bitcoin using your BTM, you will earn some extra money. And, of course, the more people do, the more revenue you'll generate!
Now is the perfect time to get involved with BTMs!
As mentioned earlier, Bitcoin has been around for over a decade, and it's here to stay. Right now, is the perfect time to get involved as more and more people learn about the advantages of using Bitcoin. Whether you want to diversify your revenues, attract more customers, upgrade what your store offers, or meet like-minded people – a Bitcoin ATM is here to help you!  At ChainBytes, we can show you how to do it all!
Follow us on Social Media: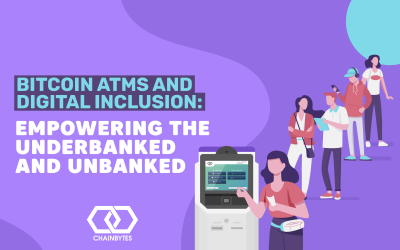 Introduction As our global financial system continues to transform, spurred by the advent of financial technology, there's a rising focus on bringing cryptocurrency to all corners of society. However, a significant portion of the population - the underbanked and...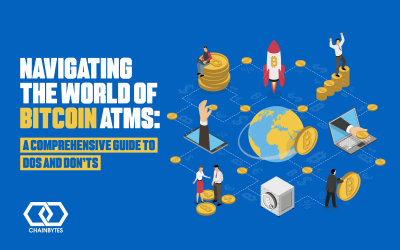 Introduction As the world of cryptocurrency expands, so does the infrastructure supporting it. Bitcoin ATMs have become one of the most sought-after services in the cryptocurrency ecosystem. With over 19,000 Bitcoin ATMs operating globally, it's crucial to know how to...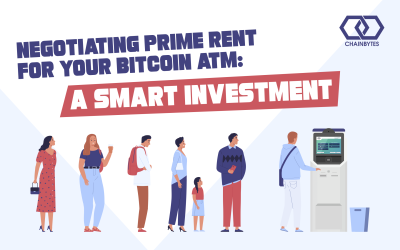 Learn about rent prices for Bitcoin ATM locations and how to negotiate the rent with potential store owners. In this article, we are bringing the best practices for renting a Bitcoin ATM location.