As of 2021, there are 26 thousand Bitcoin ATM's in the United States. That is more than double the amount we saw in 2020. It's clear that the Bitcoin ATM industry is booming in America, and it will only grow larger as more people begin to invest in cryptocurrency. 
Now is the perfect time to get involved! 
Why start a Bitcoin ATM business?
In October 2021, bitcoin hit a new record price. During this time, the number of Bitcoin ATMs has skyrocketed in almost every state.  
 
Bitcoin ATMs are increasing in popularity. 

Bitcoin ATM machines serve a wide variety of customers. 

People who aren't tech-savvy or who don't have access to banking can use Bitcoin ATMs as an important financial resource.      

Immigrants who use Bitcoin ATMs can send and receive money much more quickly compared to other methods.                                                 
How to start a Bitcoin ATM business?  
Starting a Bitcoin ATM business can be divided into five main parts: doing your research, buying your Bitcoin ATMs, setting up your machines, handling compliance, and performing everyday operational tasks.            
Research:

This includes studying your local area and considering potential high-traffic locations. This stage is valuable because it will help you better understand whether your business can make a good profit on Bitcoin ATMs or not.

Choosing/buying your Bitcoin ATM: There are several manufacturers available in the U.S. but not all offer the same quality of services. When you invest in Bitcoin ATMs, you are investing for the long run. This means high-quality materials and components are a must! Some recommend items include

High-quality hardware   

Up-to-date and reliable software

Customizability of fees and services

A manufacturer that provides hands-on and responsive customer support    

 Setting up your Bitcoin ATM: Once you get your machine, you will have to set it up. This isn't always difficult – depending on the manufacturer you chose. For example, ChainBytes Bitcoin ATMs offer a simple "plug and play" method.
Handling Compliance: You will also have to make sure that you comply with all the necessary financial regulations. This step can be tiresome. To help solve this issue, ChainBytes has a compliance package provided by a 3rd party compliance company called BTM Compliance. BTM Compliance helps make sure operators can launch their businesses quickly while meeting federal requirements.
Everyday Operational Tasks: Lastly, you will have to run everyday operational tasks. Luckily, companies like ChainBytes have Bitcoin ATMs with user-friendly dashboards. The dashboard software lets you monitor transactions, customize the spread on fees, and oversee the complete operation of your machines from one central location.
To learn more about how ChainBytes can help you with launching your own Bitcoin ATM fleet, contact them at this link.
Follow us on Social Media: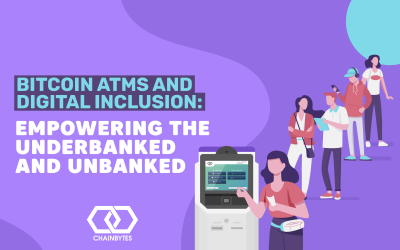 Introduction As our global financial system continues to transform, spurred by the advent of financial technology, there's a rising focus on bringing cryptocurrency to all corners of society. However, a significant portion of the population - the underbanked and...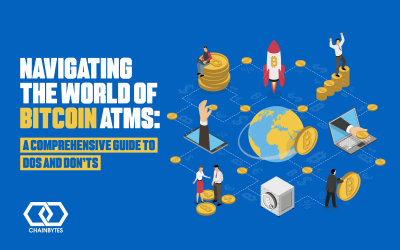 Introduction As the world of cryptocurrency expands, so does the infrastructure supporting it. Bitcoin ATMs have become one of the most sought-after services in the cryptocurrency ecosystem. With over 19,000 Bitcoin ATMs operating globally, it's crucial to know how to...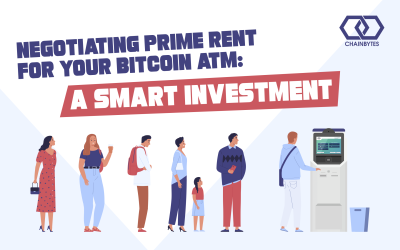 Learn about rent prices for Bitcoin ATM locations and how to negotiate the rent with potential store owners. In this article, we are bringing the best practices for renting a Bitcoin ATM location.