In order to own bitcoin, you need to have a digital wallet. Wallets are important because they are what allow you to own bitcoin. With a private key, the owner is given access to their specific wallet and is authorized to use the bitcoin for transactional purposes. There are different types of digital wallets, let's take a look at some. 
Hot Wallets
Hot wallets are digital wallets that are always online and accessible from the internet. These include — 
Websites with login and passwords

 

Apps                       

 
These wallets are immediately available for users who are also active traders. These wallets are good for people looking for liquidity during trades and exchanges. It also saves users time because their funds are actively available online. Some examples of hot wallets include — 
Hot wallets, like the ones listed above, are under the custody of an exchange. Therefore, users don't own the private key. This means that this type of hot wallet is not under the user's full control. However, some hot wallets do grant users full control of their private key (e.g.Exodus). 
Advantages to Hot Wallets
Convenient and user friendly 

 

Ready to use for transactions from a simple user interface 

 
Easy access from website or app 

 

Available on smartphones 

 
People with other wallets like hardware wallets (cold wallets) don't have as much flexibility because they have to connect their private wallet to a network in order to make a transaction, trade, or exchange. 
Choosing your hot wallet 
When choosing a hot wallet, determine if your purpose is more control or convenience. There are hot wallets that can provide both features, and those are the best type.          
It is important to make a backup of the private key. This should be stored in a file that is saved on an external thumb drive or removable disk drive. Other places to store private keys include cloud storage drives, but extreme caution must be taken. If a user loses access to any of these storage devices that have the private key backup, a user can lose access to their Bitcoins. It can also be worse if that private key is stolen because that is like giving away access to your Bitcoins. Always keep backups safe and secure.                                      
Financial Service Features with hot wallets   
Some hot wallet providers have additional features for earning. 
Fintech providers like Celsius and Abra offer interest earning savings accounts for Bitcoin deposits. The rates can differ, but this allows users to earn passive income by depositing their Bitcoin in the provider's hot wallet. The rates are much better than what banks have to offer on savings accounts, so this is an attractive feature.
When using features like this, understand that Bitcoins are in custody of another party. While this is contradictory to "your keys, your coins", the benefits are in the interest users will earn. The risk is that, while it offers users a way to earn money, they do not have full control of their digital assets. 
Longevity 
It is recommended not to use hot wallets for long term Bitcoin holding. It is much better for trading or converting Bitcoin to cash that can be withdrawn from places like Bitcoin ATMs.   
Hot wallets are ideal for immediate liquidity for transactions. This makes it more convenient for users to transact in Bitcoin. It is fast, easy and provides the user control over their Bitcoins. However, there are some risks involved with having your wallet online. If the wallet provider's system is down, you will not have access. 
Follow us on Social Media: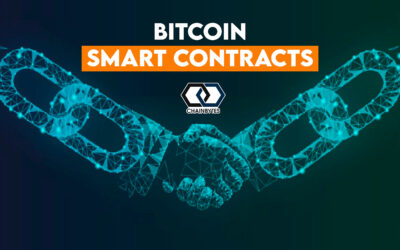 Smart contracts are now bringing benefits to Bitcoin users through enhanced functionalities. This opens the door to new features on the Bitcoin blockchain that are similar to Ethereum's decentralized applications.           With blockchain, users can pay one another...